[et_pb_section fb_built="1″ _builder_version="4.10.4″ _module_preset="default" custom_padding="0px||0px|0px||" da_disable_devices="off|off|off" global_colors_info="{}" theme_builder_area="post_content" da_is_popup="off" da_exit_intent="off" da_has_close="on" da_alt_close="off" da_dark_close="off" da_not_modal="on" da_is_singular="off" da_with_loader="off" da_has_shadow="on"][et_pb_row _builder_version="4.10.4″ _module_preset="default" custom_padding="0px||0px|||" global_colors_info="{}" theme_builder_area="post_content"][et_pb_column type="4_4″ _builder_version="4.10.4″ _module_preset="default" global_colors_info="{}" theme_builder_area="post_content"][et_pb_text _builder_version="4.14.4″ _module_preset="default" global_colors_info="{}" theme_builder_area="post_content"]
5 Mistakes Doctors Make that Hurt their Online Reputation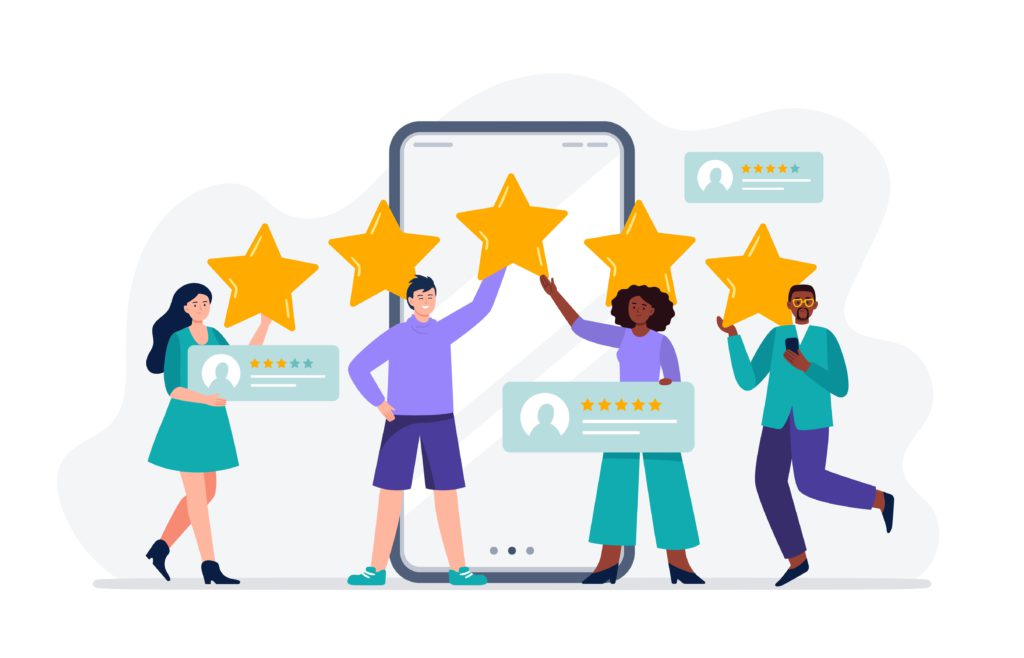 When managing a medical practices online reputation, even minor mistakes can have major consequences. Here are five online reputation management mistakes you can avoid.
1. Ignoring the Need for Reputation Management
When is it clear that your practice needs reputation management? It may not become clear until your new patient appointments have decreased. At that point there's a domino effect already in place and unfortunately it may get worse before it gets better. Every day that your practice is thriving is an opportunity to gain new patients who are looking for your services. If you don t have your ducks in a row, you've not
only lost their business, you've lost the business you would have gained from their referrals and positive reviews. Friends constantly recommend providers to other friends. All too often medical practice owners are reactive rather than proactive.
2. Disregarding Online Reviews
Consider this scenario: You invest in a digital marketing company they write blogs, create engaging videos and share the content on social networks to engage your audience. The result isn t as expected. Neither your website traffic nor your bottom line increases. What could be the problem? As soon as potential patients took a closer look and read your Google you they found a number of negative reviews.
A few bad reviews here and there from disgruntled employees or dissatisfied patients are acceptable and actually speak to the credibility of the reviews. The real damage happens when there are not enough current positive reviews from satisfied patients to balance out the score. The only thing potential patients are left with is an unrepresentative sampling of negativity. It influences their choice of healthcare provider.
An overwhelming majority (82%) of people read online reviews before choosing a medical practice. Granted, it s impossible to prevent all unhappy patients from posting negative reviews. Recognize that angry patients are much more motivated to air their grievances, especially if they feel mistreated or ignored. Luckily, happy patients are more than willing to share their positive experiences online. It s a matter of instituting a systematic, reliable way to request reviews and reducing the amount of friction happy patient encounters.
3. Not Understanding the Dynamics of Your Online Listings Visibility
A surefire way to take control of your healthcare brands first online impression is to claim and update all of your online information on platforms like Google, Health Grades, Yelp, etc. You may not be aware that there are at least 40+ online directories out there.
Even though some of the directories may be smaller they count because Googles ever-illusive algorithm ranks search results higher if data across the web is consistent. Luckily you can now use a Listing Management tool. It s the best way to ensure your practice information is complete and in agreement. These listings are often the first things to pop-up in search engine results. Unfortunately, medical care providers often ignore online listings and let go of this fantastic opportunity to help themselves gain new patients.
Incredibly, more than half of local healthcare providers still haven t claimed their Google My Business listing! Having incorrect or outdated listings is more disastrous than missing listings. In addition, potential patients who try contacting your practice through the listing may be surprised and frustrated to find your medical practice office closed if the listing is inaccurate. Not attending to incorrect information online is not just a reputation loss, it s a guaranteed revenue loss.
4. Ignoring Social Media Comments
When patients have a question or a complaint, how do they let your medical practice know? Over the phone? Via email? In-person?
Unfortunately no. The majority of your potential and existing patients will use social networks to voice their concerns and complaints. If you provide them an opportunity to easily provide private feedback you can avoid the public posting. Take care to publicly and privately respond to
patients. It s essential to foster positive public perception as it impacts your bottom line.
Patient care is an opportunity to form a relationship, not just solve an issue or respond to a complaint. Offices who ignore patient complaints on social networks risk losing them forever. If patients complain and get no response, they won t return to the same practice again. Assign someone to continuously check to see how your followers engage with your posts, read notifications for patient questions and concerns and respond appropriately.
5. Posting Fake Online Reviews
This probably goes without saying but if you re at the point of wanting to post fake reviews you have bigger problems than online review management. These days Googles algorithm is pretty good at spotting fake reviews. If it does your online review process could get blocked. Reputable third-party review platforms have policies against posting fake reviews.
Online reputation management for doctors is crucial. Avoiding these five common mistakes and partnering with the right online reputation management software platform will immediately and tremendously bolster your online reputation and help your practice thrive.
[/et_pb_text][/et_pb_column][/et_pb_row][et_pb_row _builder_version="4.14.4″ _module_preset="default" global_colors_info="{}" theme_builder_area="post_content"][et_pb_column type="4_4″ _builder_version="4.14.4″ _module_preset="default" global_colors_info="{}" theme_builder_area="post_content"][et_pb_comments show_count="off" _builder_version="4.14.4″ _module_preset="default" custom_button="on" button_text_color="#FFFFFF" button_bg_color="#ec6a2c" button_border_radius="5px" button_font="|700|||||||" global_colors_info="{}" theme_builder_area="post_content"][/et_pb_comments][/et_pb_column][/et_pb_row][/et_pb_section]